Welcome back to day three of our Content Syndication Strategy Series. Last post was all about the Gravatar and how important it is to have your smiling profile plastered all over the net. Especially when you leave good quality blog comments.
(hint..see below where you can participate.)
Now we all know that blog comments are vital to a blog's growth, energy and social proof.
However there are some responsibilities that come with the territory. Ohhh he said the "R" word.Yes I did!
I'm talking about the responsibilities towards your brand, your image, your position online. if you are not worried about this then by all means skip the video and leave a comment below.
But…and I do mean this with the deepest respect…if you value a position of leadership and authority online AND you are using attraction marketing to gain followers, then pay attention because…
THE INTERNET NEVER FORGETS!!
Today's video is going to point out the two most important aspects of blog commenting. you might want to pay attention around the 7 minute mark where I give you a little juicy nugget on how you can pick up some traffic on a popular blog if you are running late to the comment party.
I'll be back with a couple of blog commenting gold nuggets in a quick 10 minutes…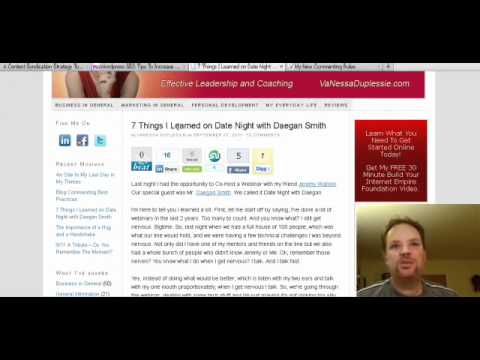 Welcome back…now lets go through a couple quick hot tips for you when you lay out your blog commenting strategy.
Blog Commenting Best Practices.
When starting out blogging or moving up to the next level you should comment on 5-10 blogs for every post you publish. Unless you are a blogging rock star with hundreds of comments flooding in you just might want to bring your "A" game.
 

Now before you head down to the comments and start loving on me with your hate mail, I want you to think of your hustle factor and how many times you want your latest blog title out there for others to see. This is how I built a page rank of 3 with only 30 blog posts…massive exposure wins every time!
Create a Blog comment Love Fest on Your Blog.
By saying "Thank You" to your top blog commentators you will have bloggers falling all over themselves to leave you the best blog comments as often as possible.

On the right side of this blog you will see a "Top Commentators" position. Everyone of these bloggers gets traffic to their site every day! things that make you go hmm… My plugin of choice is Top Commentators Widget.
Treat Blog Comments as Conversation.
Engage with your community by replying to all blog comments. Your readers took the time to leave you a comment, you should take the time to reply. This also gives you a ton of extra space to build deeper relations, spread your message and reply with more golden nuggets to foster the opinion you posted about.


A lot of readers are creepers and will read others comments…including yours. Give them something more to read about. You just might be surprised to see readers leave more than one comment. Shocking I know!

Add cool tools like Comment Luv. This gives valuable visual aspects to your readers comments as it allows their last post to be seen right below their comment. If their post title is a good hook they can get some love to their blog. There is a free version and a premium version of this plugin.
Fellow Bloggers weigh in when it comes to blog comments as a strategy and practice.
In addition to what Pro blogger and Social Media Explorer have to say about blog commenting as a powerful and affective strategy, I've asked a few of my blogging friends to give you their take on blog comments.
Adrienne Smith Gives it to straight in "My New Commenting Rules" I've been thinking about this a lot lately and I believe that now is the time to implement some rules for commenting on my blog. When I started my blog commenting journey I took a little advice from other people who were having great success with this.  That advice to me was to visit everyone's… Continue Reading New Blog Commenting Rules

Mary Lou Kayser Shares "How Your Blog's Comments Can Hurt Your Personal Brand" I subscribe to several professional blogs and as such, receive notifications about posts that may be of interest to me. This morning I followed one of the links that intrigued me, and was led to a video about a young entrepreneur from Silicon Valley who is doing business in an unusual way. Great interview — short and…. Continue Reading How Some Blog Comments Can Hurt Your Brand

 VaNessa Duplessie Shares her "Blog Commenting Best Practices" I love my blog. When I started her in 2009 (See My First Post EVER Here) I didn't know what I didn't know other than blogging was important. Well, since then I've learned a tremendous amount about blogging and know there is always more to learn. Just as with Search Engine Optimization or the layout of a Blog, there are some best practices for sharing your… Continue Reading Best Practices for Blog Comments

Sonia Winland Has some "Common Sense Tips for Blog Commenting" A fellow blogger I know asked a question about blog comment strategy and if having one matters? Do you have a method of how you get traffic to your blog that might be different from most? Did you find something that helped garner a significant amount of traffic to your blog? There are many right ways to comment on other blogs and… Continue Reading Common Sense for Blog Comments

Dr. Bob Clark Dishes on the Spammer and gamers in "Top Blog Commenter Awards: Why I Stopped Them and What You Can Do Instead" I've been a huge supporter of giving Top Blog Commenter Awards each month to those people who commented the most on my blog.  It seemed like a great idea and went over very well with the readers of my blog. They received some well deserved recognition and a back link to their own… Continue Reading Top Blog Commenters Awards

Give these guys some blog commenting love and they will thank you for it!
Now it's your turn to weigh in. What is your experience with blog comments? Share you thoughts and best practices with the community and as soon as i get comment luv working on my blog your links with shine bright!
Ken Pickard
The Network Dad
P.S. make sure you have your Gravatar… I want to see those smiling faces next to your rock star comments!
P.S.S. I created a secret group on Facebook that designed just for bloggers who leave good quality comments on other blogs as full time blog growth strategy and I have 10 spots open as I'm keeping this group tight. For qualification details send me a message on Facebook
Update…The Network Dad is now powered by Comment luv.. So Enjoy the luv when you leave your awesome comment!