If you are like me you are probably in a bunch of Facebook groups right? And some of them you actually want to be in…while others you're wonder…how did I get drafted into this mess?
Facebook groups are a great way to bring a set of like minded people together for a specific purpose. When the group is harmonizing well everyone benefits.
The video below will show just how powerful a simple Facebook group can be when it's set up correctly and you apply a simple set of guidelines everyone follows. Note the size of this group.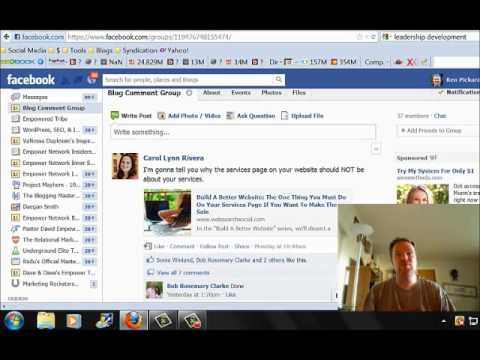 In the video you heard my set of guidelines for this group. You also heard that I qualified people to join this group. How different is the posture when you do this instead of draft hundreds of people into a group they may or may not want to be in?
The Many Uses for Facebook Groups
Some of the most common groups on Facebook are:
- Content syndication (my favorite of course)
- Mastermind (ok another favorite)
- Your down line if you're in a network marketing company
- Support for your product or service
- Photo sharing (becoming very popular)
- Humor
- Religion
- Political
Just to name a few. There is actually a never ending list of Facebook groups as well as niches a group can be created for.
So what are some of the benefits of creating your own group?
How can you edit and update your group?
These things we'll cover in the next video so stay tuned.
If you have a group you manage or a favorite group you would like to promote, leave it int he box below. Go ahead and share your best group but I want you to give it some worth. Tell us what the group is about. Give us the vision and reasons why we should look or join your group. And here's the kicker…it must be an engaging group!
Ken Pickard
The Network Dad
"If your actions inspire others to dream more, learn more, do more and become more, you are a leader." – John Quincy Adams