Happy Halloween!
Today I'm sharing a fun video my kids and I did this past weekend.
"How to Carve a Pumpkin."
You know with 5 kids I've carved my fair share of pumpkins. Actually I get the messy part of de-lidding the thing. My kids get the easy part of carving them.
This one seen here is my entry to this years "Pickard Pumpkin Patch." Say that 5 times fast!
So back to how to carve a pumpkin. Throughout the last 20 years of carving I've developed a process I call "The Darth Vader Helmet."
You know when cut the top of the pumpkin and you have the clean out the inside…
The strings and seeds and difficult to pull out and the slimy stuff gets on your arms?
Well I've solved that issue!
Not only that but this technique makes lighting the candle so much easier. Here let me show you…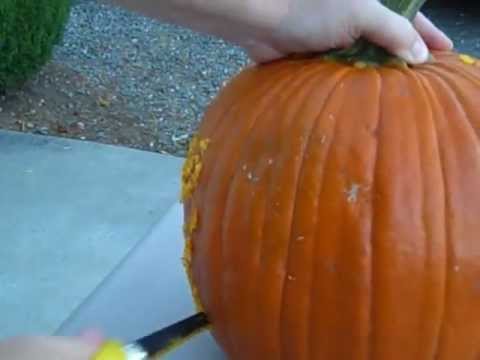 As you can see we had a bit of fun with this one. Usually we're carving these things the night before, but with such good weather we were able to take our carving activities out side this past weekend. So now we're ahead of the game.
I snapped a few pictures of my helpers..
Jacob taking on the pumpkin – I guess the tongue helps some how…
Eli…The pumpkin slayer – He's a young slayer…
Hopefully you're able to stay clean now that you know how to carve a pumpkin!
Noe tell me a little story of your best Halloween costume. What did you dress up as a kid? Any wild parties you want to share with the community?
Ken Pickard
Have a fun and safe Halloween!