Social Tribes on Twitter Lists are all the rage now and for good reason. They provide a great way to stay connected with your tribes as well as any other community or relevant group in your niche. Many people have fully embraced the fact the future of online marketing is in creating communities. We see this in Facebook with the news feeds and now in Twitter with the lists.
Right now you to make 20 lists with up to 500 people on each list. The really cool thing is that you can control your feed. You have the power to edit your stream how ever you want. Here are some list building ideas…
• For your tribes or community
• Real Estate professionals
• Comedians
• Celebrities
• Clubs or groups
• Marketing professionals
• Authors
• Public Relations professional
• Any mastermind group
• Work colleagues
• PR professionals
• Virtual Assistants
• Tech savvy people
• And many many more…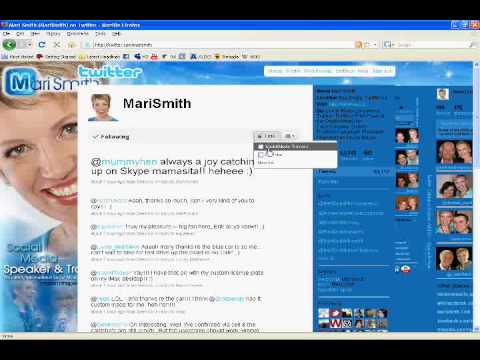 The idea is that you can not follow a small or large group of people in a single niche with ease. You can hang on every word of every tweet of all your closets friends. This is a huge opportunity to stay connected within your communities. This is the future of social media. Creating communities within these sites are becoming more popular than ever.
Twitter, Facebook, Linkdin and other social sites realize that it is difficult to follow mass amounts of people all at once. This was actually a big reason why many people do not understand or get Twitter. It's difficult fore some to wrap their heads around the idea of following so people… believing that you need read or respond to every tweet.
The other issue of spam has turned off a lot of people to Twitter. I agree that the main Twitter stream has turned into more of a classified add section than a place for real communication. The original idea behind Twitter may actually start to come back. The idea of actual discussions and brainstorming sessions and staying connected at the speed of a 140 characters.
The fake accounts or automatic posting will not be listed nearly as much as the real people who are engaging in dialogue. I'm not saying that the spam will go away completely but think about this… would you rather read what REAL people are saying or watch the never ending stream of ads? Let's take this one step further. If you are active on twitter right now, what are you reading? The stream or what your friends are saying?
A great place to find good list in your niche to follow is http://listorious.com You can search for any type of list. Wanted to connect with peeps in your circle or do research in other areas of interest? Go find a list and get listed.

The questions I would love to get feedback on are…
1. What is your favorite Twitter list? I would love to see some great value added lists.
2. Who are the people you believe should be listed in my Social Media All Star List? You can also share this with your Twitter and Facebook friends. This just may be what they are looking for. I always appreciate your Diggs and Stumbles!
Ken Pickard
The Network Dad
P.S. If you want your comment to pop and the backlink to your blog to be clicked on more… get your Gravatar today!